When it comes to working with image files of optical or physical disks, DAEMON Tools is the first app that comes to the mind of millions of users all over the world. It supports files of popular types, emulates drives to mount disc images and provides tools to organise and manage virtual discs the right way.
Download free DAEMON Tools Lite to get essential mounting features, customise it with additional tools if needed or try DAEMON Tools Ultra or Pro subscriptions with all advanced functions included. Not ready to make your choice? Here are three reasons that prove DAEMON Tools as the best app for disc images.
1. Get one solution to operate all disc images on the PC
Choose DAEMON Tools as a default app to work with image files on your Windows system. As it emulates virtual drives of DT, SCSI and IDE types, it performs quick mount of virtual discs, so you can access .iso, .img, .nrg, .cue, .mdf (and many more) content easily. Don't like manual settings? Scan your PC with DAEMON Tools to reach all virtual discs with a handy catalog.

2. Keep your files safe at hand
The more content is generated the more time it requires to keep safe and well-organised. With DAEMON Tools you can send photos, videos and files from iPhone or Android to store or back up to external disks, VHDs or TrueCrypt containers. Then mount and work with virtual hard drives easily, anytime. No matter if you keep them on PC or local network.

3. Organise. Optimise. Benefit
DAEMON Tools offers the full stack of options to perform the best way. You can customise its features in detail, benefit from multitasking and adjust its look and feel to fit Windows Light, Dark or contrast color schemes. Navigate all app menus with keyboard or Narrator and have your virtual discs mounted and available right with operating system start. It's all up to you!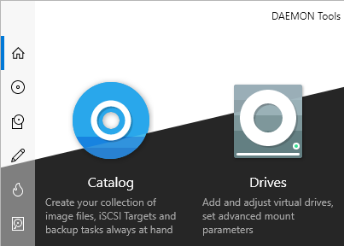 Choose your DAEMON Tools app to experience the best imaging software:
Download and install DAEMON Tools
Select a disc image
Mount!